Our happily ever after…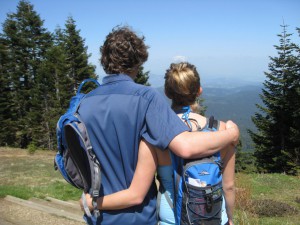 Just two random Oregon State engineering students with a passion for scuba, little did they know that their diving would lead them to each other. In March 2009 Brent and Jesi loaded up with a group of mutual friends headed to the Channel Islands for a week of diving and camaraderie.
Though they had been on several dive weekends together they had never truly met. By the end of the week the whole group had bonded over amazing visibility, great adventures, and even getting kicked off an island. How many people can say they met their future wife by getting kicked off an island? (and carrying her to the water taxi)…
Since then Brent and Jesi have been through many adventures together, here's to a million more!